Take a peek...
See what El Sereno has to offer.
---

 El Sereno is a small, quiet community that many people  don't know about. In El Sereno, people tend to be kind,  hard-working and sincere. Family and relationships are  the priority. Great food abounds, and shopkeepers provide  quality goods and services.

 The purpose of this site is to help visitors find and get to  know the community of El Sereno, and to acquaint vistors  with the diverse and rich offerings of El Sereno's  community, schools, parks, businesses and restaurants.

 We hope you visit El Sereno soon and enjoy the El Sereno  Scen

e.

  SO WHERE EXACTLY IS EL SERENO?
   - El Sereno is just south of South Pasadena
   - El Sereno is just west of Alhambra
   - El Sereno is a little northeast of Chinatown and USC
   - El Sereno is northwest from Cal State L.A.
   - El Sereno is accessed on Huntington Drive
     or Alhambra Blvd. or Valley Blvd., Eastern Ave.
     or Soto St.

Are you an El Sereno business-owner? List your business in our directory for free - just email your info...
 SHOP EL SERENO

CERAMIC FINISHES
Joe Bermudez
tile contractor
licensed / bonded
custom tile installation
bathroom / shower remodeling
shower pan expert
626-215-0134

NEW METRO TILE CO
the best place to buy tile
in Los Angeles!
quality tile materials, supplies
for every need & budget
VISIT OUR TILE SHOWROOM!
323-221-1144

 ALEX STONE & TILE SERVICES
marble • granite •  stone • cement
marble & granite resurfacing
reliable | knowledgeable
cleaning, maintenance, sealing.
stain removal, custom coloring
residential | commercial
818-481-3639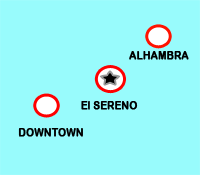 BLOGS | LOCAL SCENE

Abel Salas
El Sereno Community Garden
NELA LIVE
 BUSINESS RESOURCES

HispanicSMB